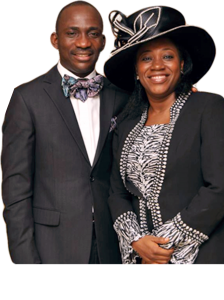 – About Us –
Destiny Christian Academy is a faith-based school established by Dunamis International Gospel Centre in 2014, under the leadership of Dr. Pastor Paul & Dr. (Mrs.) Becky Enenche.
 The school is a product of great passion ignited in the minds of Dr. Pastor Paul & Dr. (Mrs.) Becky Enenche for quality education, and a vision to establish a legacy in the education sector in Nigeria as a whole.
 The take off was triggered by numerous factors especially with the shortfall in the standard and quality of education in Nigeria. One major account responsible for the take off was when the Director of the school, Dr. (Mrs) Becky Enenche became very dissatisfied with the level of examination malpractice and social vices that was prevalent in most of Nigeria colleges both government and private.
 This dissatisfaction led to the desperate desire to institute a change in the educational sector starting with this one school as it were and spreading its tentacles and practices to engulf the entire nation. This all-encompassing passion is geared towards the restoration of dignity, values morals, academic excellence and fear of God in the educational system, where both teachers and students can strive at achieving excellence generally without compromise or corruption as the case may be.
– Why Choose Destiny Christian Academy –
A place where individuality is accepted & expected
A Place where lives are enriched with a broad spectrum of facilities
A place that leaves a memorable journey of learning through discovery
A common ground where STARS meet beyond the SKY.
A world of academic excellence.
A community of togetherness
Address:
The Lord's Garden,
Airport Road, Abuja
FCT, Nigeria.
Email:
admissions@dcahost.com
info@dcahost.com
Mobile:
08062687150
07060522511
Website:
www.dcahost.com